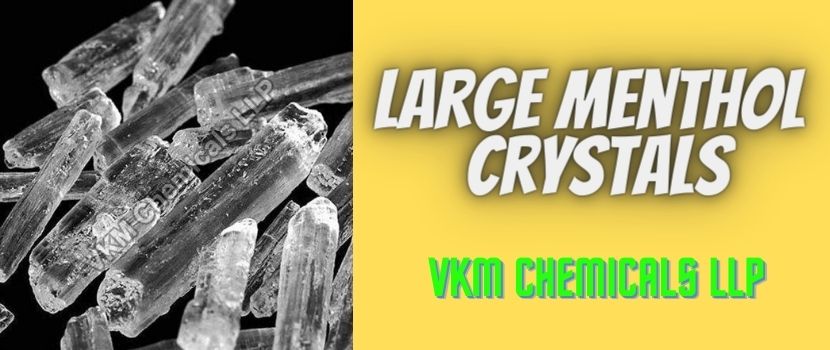 Large menthol crystals refer to large, crystalline pieces of menthol, which is a natural substance found in plants such as mint and has a cooling and refreshing flavor. Menthol crystals are often used in a variety of products, including breath fresheners, candies, toothpastes, and personal care products. They are also used as a flavoring ingredient in some medicinal products, such as cough drops.
Usages of large menthol crystals:
Large menthol crystals have a variety of uses, including:
Personal care: Menthol crystals are often used in personal care products such as balms, creams, and ointments for their cooling and soothing properties.
Aromatherapy: Menthol crystals can be used in aromatherapy to refresh and invigorate the senses, especially in a diffuser or humidifier.
Confectionery: Menthol crystals are used as a flavoring in candies, chewing gum, and other confectionery items for their refreshing taste.
Household uses: Menthol crystals can be used in household cleaning products for their fresh and minty scent.
Medicine: Menthol crystals are used in over-the-counter medicinal products such as cough drops and throat lozenges for their soothing and cooling effects.
Process of making large menthol crystals:
The process of making large menthol crystals typically involves the following steps:
Extraction: Menthol is extracted from plants, such as peppermint or cornmint, through steam distillation or solvent extraction. This results in a menthol oil that contains menthol and other plant compounds.
Purification: The menthol oil is purified to remove impurities and to increase the concentration of menthol. This is typically done through distillation, crystallization, or a combination of both.
Crystallization: The purified menthol oil is cooled slowly to encourage the formation of large menthol crystals. This can be done in a controlled environment, such as a laboratory, or on a large scale in a factory.
Harvesting: Once the menthol crystals have formed, they are harvested and packaged for sale.
The process of making large menthol crystals requires a high degree of technical expertise and specialized equipment, as well as strict quality control measures to ensure that the resulting crystals are pure and of high quality.
Precautions to take:
Menthol crystals should be used with caution and in recommended amounts as excessive use can lead to skin irritation, headaches, or respiratory problems.
how to buy large menthol crystals?
Large menthol crystals can be purchased from various retail outlets, including:
Pharmacies and health stores: Pharmacies and health stores often carry large menthol crystals for use in medicinal products and personal care items.
Online suppliers and retailers: Online retailers offer a wide range of menthol crystals, including large ones.
Specialty stores: Specialty stores that sell aromatherapy and natural health products may also stock large menthol crystals.
When purchasing large menthol crystals, it's important to look for a reputable supplier and to ensure that the crystals are of high quality and pure. It's also a good idea to research the intended use of the crystals and to follow any usage instructions or guidelines provided by the supplier.
Qualities of a trusted menthol suppliers:
Consumers always have the upper hand if they are reaching a trusted supplier. Whether you are looking for prompt delivery, first-rate packing, high-quality goods, close attention to detail, or affordable prices, they are available to meet all specifications as and when required.